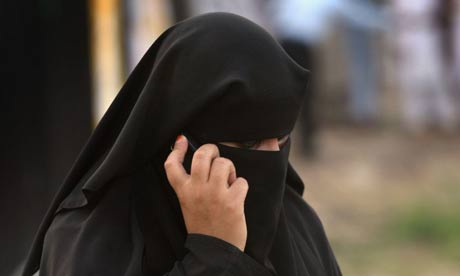 Belgium to ban veil

Belgium today moved to the forefront of a widening campaign to restrict the wearing of the Muslim veil by women when a key vote left it on track to become the first European country to ban the burqa and niqab in public.
The face-covering veil is set to be banned within weeks in Belgium, making it the first country in Europe to make the wearing of Muslim clothing illegal.
Women who flout the ban will face from one to seven days in jail or a fine of €15 to €25.

A vote in the full Belgian parliament is expected on April 22 and a "yes" vote seems assured given the political consensus.

Of the 500,000 Muslims living in Belgium – with big populations in Brussels and Antwerp – very few women wear the full veil, and there has been little public debate about the need to ban it.
It remains to be seen whether any bans will be challenged at the European court of human rights.
the Hijab-wearing Belgian MP
At 27, Mahinur Ozdemir is by far the youngest deputy to serve in the Belgian parliament in Brussels. As the debate about the Muslim headscarf rages on in several European nations, she has also become a lightening rod for controversy.
"I am an example of social integration, and yet I wear the headscarf," says the Belgian national of Turkish origin.
When she was sworn in on June 23, 2009, pledging to uphold Belgian laws while clad in her hijab, murmurings of discontent could be heard among her detractors. The news of her confirmation attracted much media attention, particularly in Turkey. "At home, she would be dismissed from parliament," noted one incredulous journalist, who had travelled from Istanbul to cover the event.