Come and join me to learn some of the basic stuff from the Greenfield Kitchen....
Bunga Kantan = Wild Ginger Bud
Well known for its powerful smells for laksa. (what is laksa in English?)
Pucuk paku = Paku Shoots...or Nail Shoots
Yum..yum...yum...alhamdulillah, these shoots are fantastically mouth watering.
Lengkuas = Galangal
Remember, it differs from Ginger (halia) and Kunyit (Tumeric). Can anyone tell me the differences?
This is Lemon Grass, known as Serai
Wow...delicious with tom yam and nasi goreng kicap.
Tempe... a Jawanese delicacy, known as Fermented Beancurd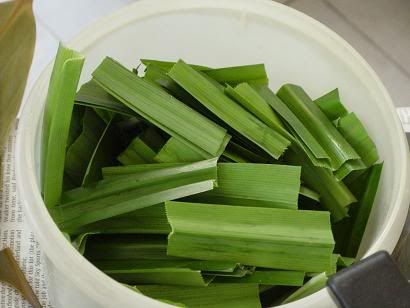 Daun pandan is Screwpine leaves.
Belacan is Dried Shrimp Paste
Not suitable for all people..
Cili Api is not Fire Chillies..but rather known as Bird's Eye Chillies
Subhanallah, very interesting. One last question is, do know how to translate this;
"MASAK LEMAK CILIAPI PUCUK PAKU"
Aha...dare to take the challenge?